Service Times
Sunday
11:00-12:30
Sunday Worship (Simultaneous English interpretation is available. English visitors please contact us)
4th Sunday
14:00-15:00
Bible Hour (Japanese outreach ministry)
Access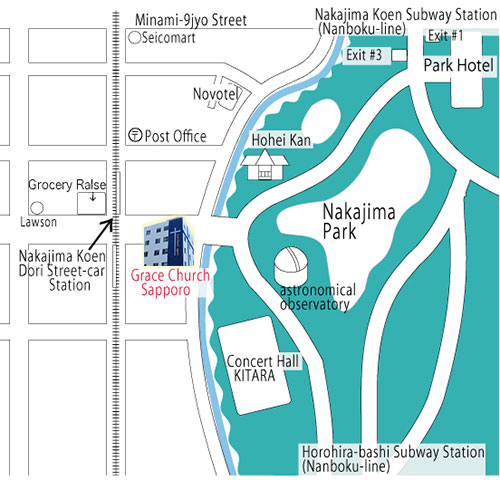 Subway: 5 minutes walk from Nanboku-line "Nakajima Koen" Subway Station
Trolley: 1 minute walk from "Nakajima Koen Dori" Trolley Station
Parking is available for both cars and bicycles.
Welcome!
Thank you for visiting our website. It is the greatest joy of our church to tell you of our Savior Jesus Christ.
Jesus said,
"Man shall not live by bread alone, but by every word that proceeds from the mouth of God." Matthew 4:4
Without "bread (clothes, food and shelter)", we will die. "Bread" is essential to our life. But Jesus said "man shall not live by bread alone." There is something important more than "bread." It is God's word. That is, to live by believing in Jesus Christ. Because Jesus Christ is the One who created us, we rely on Him to bless our lives today and tomorrow. We also depend on Him for our destination after death.
The life of "bread alone" will be empty, no matter how much money and material you may have, or how honorable a person you may become. We are now living in a society of confusion and anxiety, and are like leaves floating in the storm. We are wandering, trying to find how we should walk in our lives and what will guide our lives. The compass that is necessary for people like us is Jesus Christ.
We eagerly want you to discover the only thing that will enable you to find a life full of rejoicing and thankfulness on this website. Our service times are understandable for anyone because the sermon is shared in easy Japanese. You can feel free to take part in it even if you are not a Christian.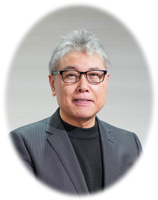 Thank you for visiting to this website. We are praying that God may lead and bless you.

Toyoharu Kamidate
Senior Pastor